Today we embark on a transformative endeavour, an accelerator program that aims to fuel a wave of impact entrepreneurs who will shape our future.
The world, in fact, isn't short of problems, and the traditional measurement of success, like GDP, is no longer sufficient.
We need a new generation of entrepreneurs whose driving force is to create a positive impact for both People and the Planet.
Let's embrace the opportunity to shape a future where data-driven solutions can make a lasting difference in our society.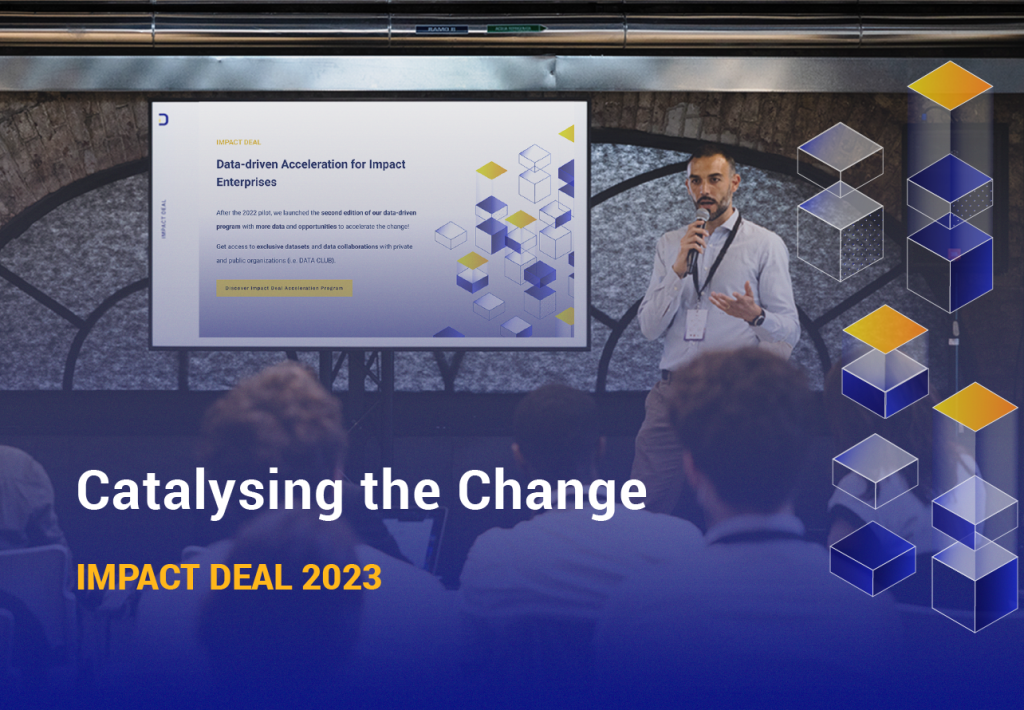 We selected 15 enterprises from 79 finalised applications coming from 20 countries.
Here is the full list:
Bin-e Smart Waste Bin – Poland – SDGs: 11,12,13 #SmartWaste
"The World's first AI-based smart waste bin"
Dedalo AI – Italy – SDGs: 7,13 #CO2reduction
"Helping companies measure and reduce the CO2 impact of their software"
Gocleer – Spain – SDGs: 3,5,8,11,13 #SustainableMobility
"Leading the transition to a more sustainable urban mobility"
Kreios Space – Spain SDGs: 9,13,17 #Aerospace
"Developing a fully electrical and sustainable engine for satellites"
Mentessa – Germany – SDGs: 8,9,10,11 #LearningPlatform
"AI-powered peer learning platform for skill-based mentoring & collaboration"
Opt/Net – Netherlands – SDGs: 9,12 #PredictiveMaintenance
"AI platform that enables end-to-end monitoring, analysis and failure prevention of complex critical networks in real time"
Paperbox Health – Italy – SDGs: 3,4,10 #MentalDisorders
"Overcoming accessibility barriers related to neurodevelopmental disorders"
Planet Watch – France – SDGs: 3,11,13 #AirQuality
"Decentralizing, incentivizing and gamifying air quality monitoring, building the first immutable global air quality ledger"
ReLearn – Italy – SDGs: 9, 12, 13 #SmartWaste
"Making the waste-free life accessible to everyone"
The Predictive Company – Spain SDGs: 7,12,13 #EnergyOptimization
"SaaS solution for energy optimization & predictive maintenance based on AI"
Untap – UK – SDGs 3 #WaterSurveillance
"Providing a pathogen monitoring service to reduce transmission of infectious diseases within your community"
Valuebin – Italy – SDGs: 3,11,12 #SustainableShopping
"Building the next generation's sustainability algorithm, giving you the power to make more sustainable choices during your shopping"
Virtuleap – Portugal – SDGs 3 #BrainImprovement
"Improving Brain Health with VR"
Volvero – Italy – SDGs 8, 11, 13 #SharingVehicles
"The app for sharing vehicles that leverages AI to improve user awareness"
Xnext – Italy – SDGs: 12 #FoodInspection
"Developing the most advanced real-time inspection system"
THE KICK-OFF IN TORINO // May 31 – June 1
We are excited to kick off the Program in the vibrant ecosystem of OGR Torino. This two-day event promises a dynamic lineup of activities, including program introductions, stakeholder interactions, pitch sessions with investors, inspiring lectures on data and impact, exploration of the OGR Torino ecosystem, and a private visit to the captivating exhibition "Perfect Behaviors."
The second day will feature team-building exercises, Agile approach training, and an opportunity to connect with the Impact Deal Data Club.
EMBARK ON AN EXCITING JOURNEY TOWARDS THE DATA PITCH AND BEYOND!
The chosen companies will dive into a series of online sessions over the upcoming weeks, immersing themselves in use cases and discovering best practices for data collaboration and impact. This hybrid path is designed to prepare them for the Bootcamp scheduled for early July, culminating in the thrilling Data Pitch on July 7. Following this event, a subgroup of enterprises will be selected to progress to the second stage of the program, spanning from September to November. We then move to the grand finale, the Demo Day, where these exceptional innovators will showcase their groundbreaking solutions. Get ready to witness the power of data4impact!