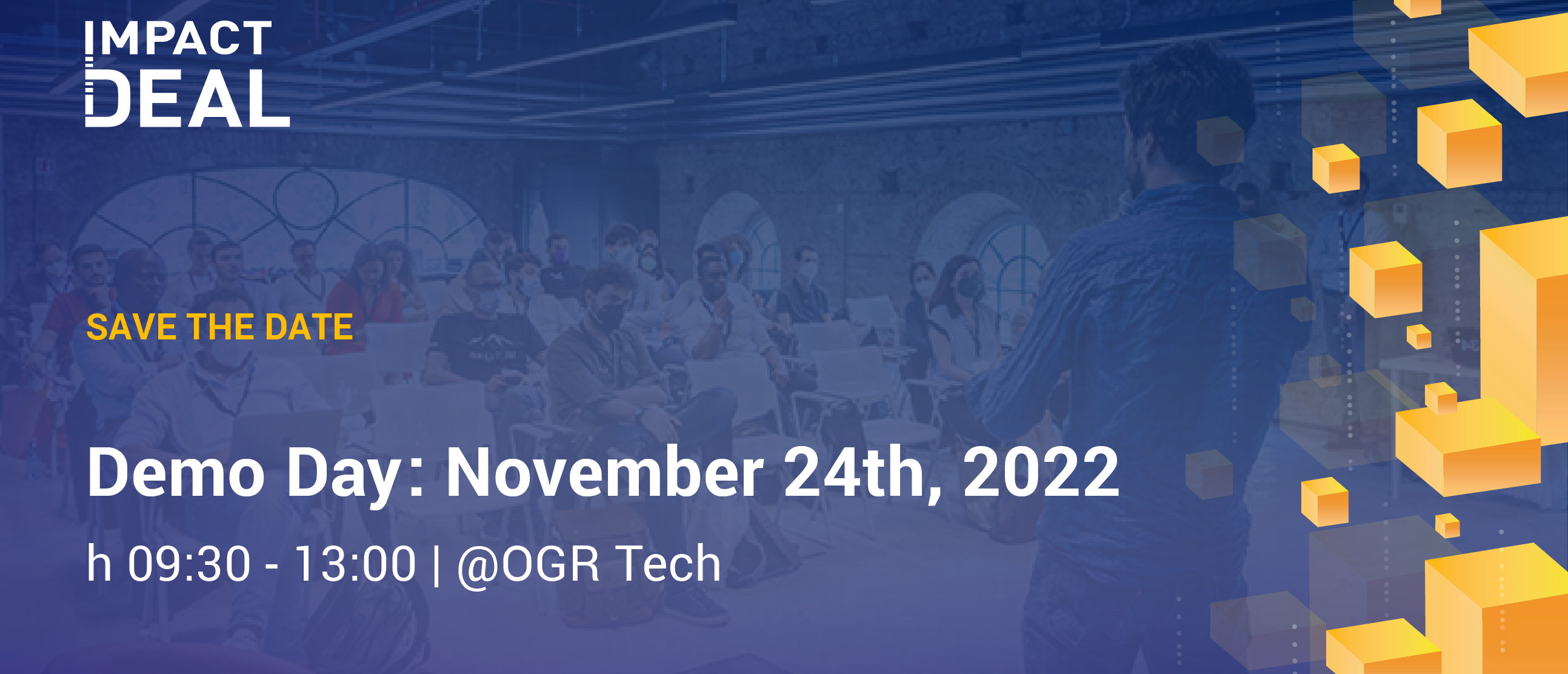 IMPACT is defined as "to have a strong effect on someone or something". It is a profound word with a depth of meaning. What is the impact we want to generate in the next future?
On the first Impact Deal Demo Day, next November 24th, you will meet the seven brave Impact Enterprises that last May started our unique Acceleration Program.
This is the moment when Impact Deal enterprises will be in the spotlight to showcase their ventures and progress.
Join us and discover the vision by Impact Deal Founders and key partners: a vision made of hard and soft skills, networking, partnership and most of all… data for societal impact!
Where: OGR TECH – Corso Castelfidardo, 22, 10128 Torino
Agenda:
09:00 am – Welcome and registration
09:30 am – Opening by Impact Deal founders
10:30 am – Impact Deal Pitches: Class of 2022
12.00 am – Meet the impact enterprise teams!
01:00 pm – Lunch and networking
Direct link here: https://events.top-ix.org/it/registration/impactdealdemoday
The physical seats are limited but online streaming tickets are available!
---
Do you want a spoiler of the enterprises you will meet?
Alba Robot aims to change the way passengers with Reduced mobility move and enhance their independence by creating a platform with the best tech from Automotive, Robotics, Voice Assistants and IoT.
Aroundrs has the mission to encourage and inspire a circular lifestyle to reduce the use of disposable packaging in the food industry. The project aims to build a reuse ecosystem that eliminates waste in an innovative and accessible way to all.v
Open Impact aims to create an open ecosystem of knowledge and skills on impact, with the objective to empower decision-makers to make aware choices, encouraging the recognition and remuneration of the social and environmental value.
Pin Bike aims to speed up the transition to cleaner and environmentally sustainable mobility, through a patented system of monitoring and gamification of urban bicycle rides. They engage public administrations, companies, and citizens towards more aware mobility.
The Newsroom aims to fight misinformation and promote plurality online. To achieve this, they are building two solutions: a free browser extension and a mobile application. Users will receive an overall evaluation for the article to build a rounder opinion on the matter.
Virtuosis aims to enhance team collaboration and well-being at work. Their proprietary tool developed at EPFL analyses the voice during video calls to predict communication skills and mood. In particular, we early detect burnout and potential team conflicts.
Wiseair is a platform to collect air quality data, generate awareness among citizens and municipalities and create actionable solutions and policy-making tools.